(Please note that some of the links below are affiliate links at no additional cost to you, we will earn commission)
Choosing the best theme for your WordPress site can be a challenge especially for beginners. Remember that your theme is a representation of your site. Different themes are appropriate for different sites.
You need to consider the following factors; simplicity, browser compatibility, translation readiness, page builders, support options, customer ratings, supported plugins and SEO friendliness.
The design of your theme should be a relevant tool that helps you meet your goals.
Both Thrive theme and Genesis theme frameworks have desirable qualities. The comparison below should help you identify the unique qualities of each theme.
THRIVE THEMES
Thrive themes was founded by Shane Melaugh, a marketing expert, and Paul McCarthy, a tech fanatic. The aim of thrive themes is to offer a toolbox that meets all consumer needs.

There are eight plugins associated with Thrive;
Thrive leads
Thrive clever widgets
Thrive, architect,
Thrive ultimatum
Thrive headline optimizer
Thrive quiz builder
Thrive comments
Thrive ovation
All the plugins have unique properties that set them apart. Thrive leads, for example, is special because it allows you to get the attention of people trying to leave your site.
Thrive headline optimizer, on the other hand, will help you get out your desired message using a good headline. With this plugin, a report will be displayed showing you the impact of your headline.
Features of Thrive Theme
All Thrive themes have automatic image compression. You do not need image optimization plugins. This saves you a lot of money since some of these plugins can be very expensive.
BUILT-IN CONVERSION FOCUS AREA
It allows you to improve your conversions, add opt-in forms, call-to-actions and basically any other feature you find necessary.
BUILT-IN PLUGS
There are a number of such including; font managers, sharing buttons and image galleries.
LANDING PAGE TEMPLATES
Thrive themes have a page that gets rid of links, sidebars or any other thing that isn't relevant to a visitor on your site. This keeps them focused on the information that you want to pass.
THRIVE DASHBOARD
Thrive has a central dashboard inside WordPress. It allows you to manage settings for the Thrive product suite. The dashboard separates into; installed products and thrive features.
The upper part of the dashboard grows as you continue to install more thrive products.
The lower part contains general settings that can be applied to all of Thrive products. All your themes and plugins work together inside the dashboard.
You can use new themes or plugins without getting new tabs. This allows your new installations to automatically get the basic configuration settings from your general dashboard. They include;
API Connections – This option is helpful in connecting your Thrive leads to your email marketing system, delivery system, and reCaptcha email.
Custom Fonts – This is used to add, edit or find fonts to be used in Thrive products.
Notification Manager – When an event occurs on your site, this option notifies you. This allows you to always know what is happening.
Thrive Themes Membership – It is possible to buy plugins and themes individually. Thrive themes membership, however, is a purchase feature that enables you to get everything under a single plan.
With the membership, you get all the themes and plugins that Thrive makes. You also get access to Thrive University. This is a set of courses meant to help you learn about digital marketing.
Even though some courses are free, some are only available if you have the membership.
Thrive themes are generally designed for functionality. They integrate key features into one theme. The themes have inbuilt features that you would normally have to install separately using different plugins.
Having many plugins would slow down a site. Thrive is made to optimize speed, respond well to any device and screen size and shortcode elements.
In spite of the focus on functionality, the themes have a beautiful and distinctive design.
There is a multiple color option and each theme is unique. Rise, for example, is suitable for affiliate marketing while Perfomag is great for magazines because of its fully customizable color options.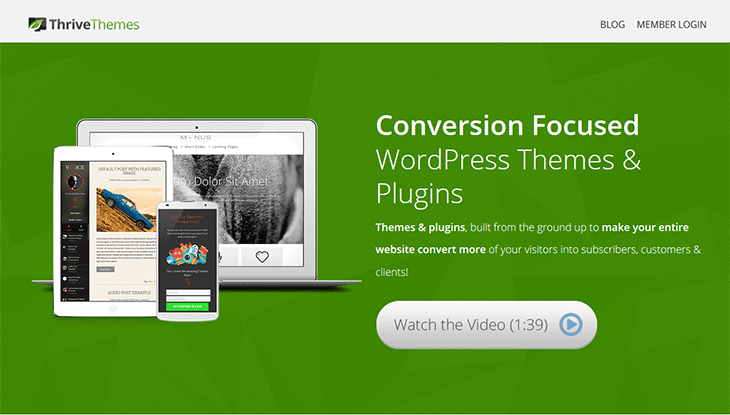 Advantages
Thrive themes have a great design: The layouts are simple and the user will have a great time with the large, easy to read fonts and white space.
Maintenance of Thrive themes is easy: Thrive has a lot of illustrative videos that will teach you how to optimize your themes. They also respond really fast to issues raised and will help you meet solutions for your site.
Customizability: Thrive themes have easy customizing options. Each theme allows you to disable or enable different features.
It is easy to change font size or color, adjust background color, and change typography styles. Generally, you get the desired look without a lot of hassle.
Speed: Thrive themes are generally made for great performance and high speed despite the fact that most of the theme files are heavy. They also help to optimize a page for SEO. Pages also load fast.
Disadvantages
If you have a small budget, the membership can be expensive. Buying single themes, on the hand, may not offer everything you are looking for.
It is possible to categorize requests incorrectly on the support forum software.

Genesis Theme
Genesis theme framework is a creation of StudioPress. For a long time, it has been the most popular theme framework to the user on WordPress.
The main strength this theme framework has is its great search engine optimization. Genesis is one of the best software on the market.
It makes using WordPress a lot easier. It also has a variety of child themes to choose from. Each one of the themes has a professional and elegant design.
The theme is lightweight, flexible and fairly easy to use. There are at least 50 child themes available so you also have a healthy variety.
Installing Genesis (the parent) and a child theme is really easy. There are a lot of videos on StudioPress sites and YouTube that can help you if you are having any trouble with that.
For you to run on Genesis, you require both the framework and the child theme on your site.
Features of Genesis Theme Framework
A framework is basically a highly functional parent theme. It is the foundation theme that offers good functionality. It can be said to be the core.
The child theme, on the other hand, is supporting, overlaying theme. It can be compared to paint on a wall. The child theme cannot function without the parent theme. Because of this, the parent is installed before the child.
CUSTOMIZATION
The themes of Genesis have no drag and drop site builders like Thrive. You need to be able to code HTML and CSS. You can also use third-party plugins to make it easy to customize child themes.
If you do not have these skills, you may need to hire someone to do it for you. The theme customizer lets you change theme settings and colors to your preference.
SEO FRIENDLINESS
One of the best features of Genesis theme framework is that it has inbuilt optimization requirements. You don't need to add other features to achieve search engine optimization of your site.
This makes it easy for new readers or existing clients to find your site.
FEATURED CONTENT WIDGETS
Genesis provides widgets for featured material. It could be featured pages, posts or profile. These widgets add functionality to your site. You can customize these simple widgets to add information to your site.
LAYOUT
Genesis does not limit you. Most of the themes offer you a chance to choose your preferred theme layout.
IMAGES
Nothing draws attention to your site more than good images. Genesis has made it possible for you to have good quality images without having to go through too much trouble.
The themes have been integrated to use the featured image capability of WordPress.
THE COMMENTS SECTION
Every site needs feedback from the readers. With Genesis, the commenting is a lot easier. It includes threaded commenting and Gravatar integration.
CUSTOMIZABLE HEADER
Genesis themes framework allow you to come up with your own logo. They support all text-based logos for beginners.
MOBILE RESPONSIVE
Genesis responds and functions well in all browsers and screen sizes. Child themes are generally good-looking and very responsive. They can be edited again and again, to meet your preference.
HTML5 CODES
The use of this code enables your site to work well with browser updates. It gives a design that is friendly to mobiles and inter-browser compatibility. It also improves the quality of your audios and videos and better performance.
UPDATES
Genesis has developers that update and maintain it regularly. It is therefore compatible with emerging technologies and has good promise for the future.
PLUGINS
Genesis does not limit you to only Genesis-specific plugins even though they are more convenient and compatible.
Any WordPress plugin will work just fine. It is, however, important to note that using too many plugins will affect the functioning of your site.
Advantages
Lightweight: Even though it has a lot of features, Genesis has just a few hundred kilobytes. This helps to keep speed and page load time fast and easy. The codes HTML 5 and CSS3 are clean, good looking easy to use and highly functional.
Flexibility: Genesis is flexible so it can accommodate various designs and development needs.
Secure: Because it is regularly updated, Genesis is secure and reliable at all times.
Support systems: With Genesis, it is possible to get tutorials, articles, reviews and support forums. This support helps you answer questions, find solutions to problems and gain additional informational from actual users of the framework.
Studiopress support forums have a variety of step by step tutorials and a moderator. There are Facebook, Twitter and Google+ communities.
Payment for this framework is just once: There are no monthly subscriptions. The full bundle includes all the Genesis child themes and plugins.
Simplicity: Genesis offers you the basic features your site needs. If you need any additional features, you can just add them.
License: After purchasing Genesis, you get a developer license.
Disadvantages
If you have no prior knowledge of CSS and PHP, customizing your Genesis child theme can be difficult. You may need to seek the help of a professional.
You must use a child theme with Genesis. If you fail to use a child theme, your customizations will be lost whenever you update Genesis. The parent theme, in itself, is unable to keep your changes safe.
Cost-It can be pretty expensive since you have to buy the Genesis theme and the child theme separately.
Conclusion
From the review, it will be easy to choose between thrive themes vs genesis theme framework. Both Thrive themes and Genesis have a lot of unique features that make them a suitable choice for different needs.
Even though thrive theme is fairly new to the market compared to Genesis; it is incredibly easy to install and customize. It works well without the help of additional plugins.
Genesis themes framework is also great with optical search optimization. It offers widgets and even layout options. With a little knowledge of HTML and CSS customization is pretty easy.
It is, therefore, safe to say that the two are the leading WordPress themes each one in its own right. When deciding whether to use Thrive themes or Genesis, go through the article and make a conscious choice.